Earlier this summer, 12 of my fellow entrepreneurs and I had the opportunity to meet with award-winning filmmaker Barnet Bain. Like so many of my experiences in 2016, that conversation – along with reading his "The Book of Doing and Being: Rediscovering Creativity in Life, Love and Work" – continues to resonate and percolate with me.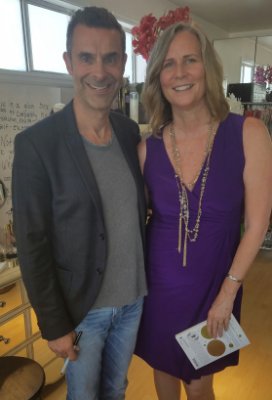 As I work with clients, common themes continue to appear – regardless of the organization's budget size, or the individual's professional success. We all have a need and desire to solve problems, and address the internal and external forces that seem to prevent growth, advancement, progress, and even happiness.
Since the journey of organizational and individual success seldom travels in a straight line, it's also extremely common to find moments (or extended periods) of resistance, or feeling "stuck."
When we feel "stuck," there are tangible strategies that we can all call upon to move ourselves forward and identify the embodied actions that will enable creating the change we want and envision. I've witnessed transformation first-hand with clients enrolled in my 90-day Leadership Coaching program, and in every organization I have led as an Interim leader.
Here's what Barnet Bain says:
Becoming a "Solution-Maker"
"To meet the challenges of the world that is becoming new, to effectively address problems that appear to have too few solutions, creativity must be awakened.  From business and politics to the way we tend to our personal lives, we need to stretch our imaginations beyond outmoded practices.
We can all become weapons of mass creation"
To DO this, Bain says, we need to "Reach and stretch in new directions, engage in activities and rituals that awaken positive potentials.  Practice, because your old linear, logical approaches, as valuable as they are, are not valuable enough, not extensive enough."
Barnet provides many powerful exercises throughout the book, and here's a simple one that you can try this weekend… no matter how busy you are:
Rearranging the Routine in Your Life
Doing ordinary things in a different order, consciously mixing things up, rewires and refires the flow of creativity.  Try different approaches to routine activities:
Sleep on a different side of the bed
Drink from a cup instead of a glass
Use chopsticks instead of a fork
Follow a new path through the grocery store
Find new routes for your drive or walk to work
Fold the laundry in a different room
Greet people in a new way
Answer your phone in new ways
Reposition the items on your desk.
By rearranging routines, you actively generate new perspectives. Creativity does not come unbidden.  You have to encounter it and invite it.  Ask yourself, "How can I approach common things more inventively?" Have fun with it.
As we head into Labor Day weekend, we have another opportunity to "shift" before starting a new school year, a new Season, a new Fiscal Year.  What are the actions YOU can take to start that process?
If you'd like support in creating purposeful intentions, and creating the personalized strategies to move those intentions forward, I invite you to schedule a Clarity Call with me.
Click here to schedule your complimentary Clarity Call today.
As always, I'm grateful to have you as a part of my email community, and I stand by you in FULL support of your intentions, dreams, and commitment to making a big difference in the world.
To your success,
Kathryn